There is something about home made biscuits don't you think? My kids love these Smartie Cookies, both making and eating them.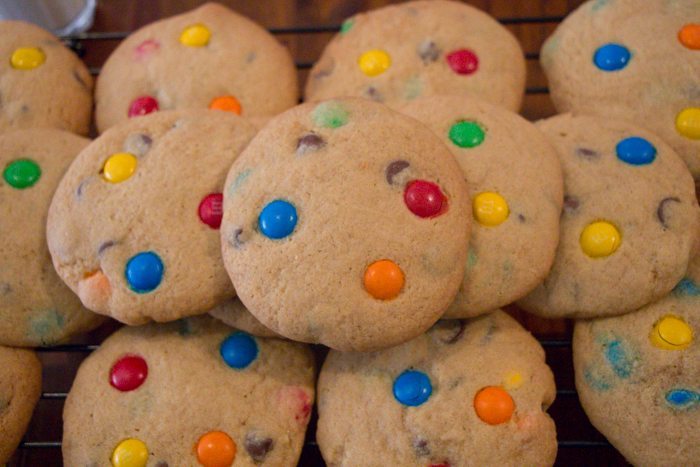 Sure they're not the healthiest option for a kid's snack, but I always think if they're homemade they've got something over the shop bought variety. I am a real believer in everything in moderation, so make these when you feel like giving everyone a little treat (or just make them for yourself and don't tell anyone!)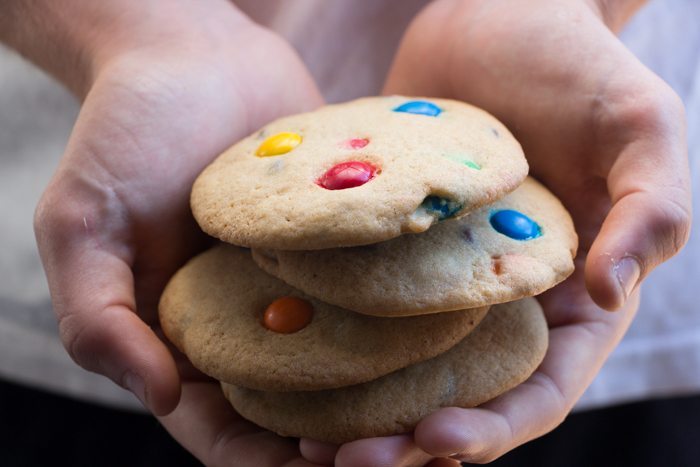 Smartie Cookies
Author:
Prep time:
Cook time:
Total time:
Sweet Cookies Filled with Smarties – easy enough for the kids to make themselves
Ingredients
170gm unsalted butter, chopped, at room temperature
2/3 cup sugar
2/3 cup light brown sugar, firmly packed
2 eggs
1 tsp vanilla extract
2 cups plain flour
1/2 tsp bicarbonate soda
1 tsp salt
2/3 cup dark chocolate chips
2/3 cup chocolate Smarties or M&Ms
Instructions
Preheat oven to 180 degrees Celsius
Beat the butter and sugars with an electric mixer for 2 minutes, or until creamy.
Beat in the eggs and vanilla. Scrape down sides of the bowl to ensure mixture is incorporated.
Stir in the flour, bicarbonate soda and salt. Mix until smooth.
Stir chocolate chips and 1/2 cup of the Smarties/M&Ms.
Roll into balls, about the size of a golf ball. Flatten slightly and place on baking paper lined cookie trays
Place leftover Smarties/M&Ms on top of the cookies as desired, pressing slightly so they stick.
Bake for 10 minutes, or until the edges start looking golden.
Remove trays from the oven. Put aside for 5 minutes to cool slightly, then remove and allow to cool completely on a wire rack.
They are best eaten the day of baking, but can stored in a sealed container for around 4 to 5 days. That's if they last that long without being eaten!
These are my kid's favourite cookies ever. A batch doesn't last long, so make a double batch just to make sure you get to eat one for yourself!