Everyone loves a roast chicken. I love 'spatchcocking' a chicken to speed up the process. This means getting a little savage and cutting the bird open to flatten out. This way the chicken needs a shorter cook time, and both sides get nice and crisp. Ideally cooked on the barbeuce for maximum smokiness and crispness, I also cook them like this in a conventional oven with amazing results.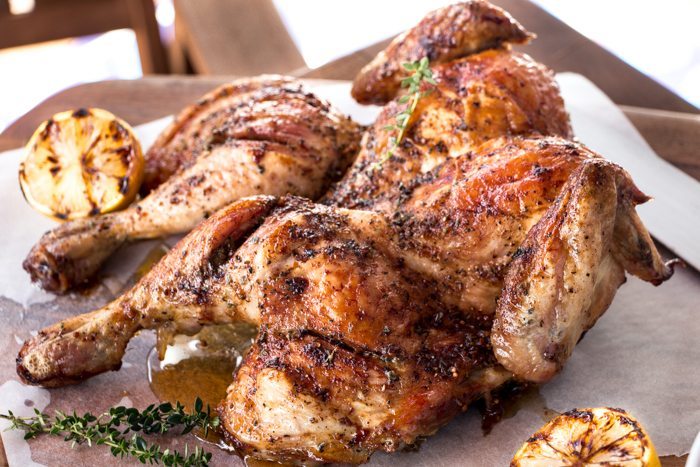 For a make ahead meal, 'spatchcock' your chickens once you get home from the supermarket and place in a freezer bag with your marinade ingredients. Freeze until needed, and you have a ready to go chicken. Perfect for taking camping, or for impromptu barbecues.
Garlic and Herb Spatchcocked Chicken
Author:
Prep time:
Cook time:
Total time:
The easiest and fastest way to enjoy a roast chicken. The bonus is extra crispy skin.
Ingredients
I whole large sized chicken
1/4 cup olive oil
2 garlic cloves, finely chopped
1 tbsp fresh lemon thyme, chopped
2 tbsp dried oregano
1 tbsp paprika
Juice of 1 lemon
1 tbsp salt
1/2 tbsp cracked black pepper
Instructions
Spatchcock the chicken by using a large knife or pair of kitchen scissors and cutting down both sides of the spine of the chicken. Remove.
Turn the chicken over and using your palm, apply your weight to the breast bone and push to flatten. Set aside.
Put all the remaining ingredients in a small bowl and mix to combine.
Using a sharp knife, cut two slashes into each chicken leg. This helps them cook evenly.
Rub the marinade all over the chicken and cover and refrigerate overnight if possible, or for at least 2 hours.
Heat a BBQ onto high heat and place the chicken straight onto the hot plate, breast side up. Drizzle with olive oil and cook for 5 minutes, turn over and cook on the other side for 5 more minutes.
Turn the heat down to medium, cover with the BBQ hood (if you have one) or a large roasting dish. Cook for another 15 minutes, drizzling with olive oil if it is looking dry, then turn over, breast side up, cover for a final 15 minutes or until cooked though. The legs are the last part to cook, so check them first.
Drizzle with a squeeze of lemon juice and sprinkle with some chopped parsley and serve.
You can cook this in a roasting dish in the oven at 190 degrees celcius (170 degrees celcius fan forced) for approximately 50 minutes. Just baste often with the cooking juices