This dish is a real classic.  It's not a complex dish skill wise, but the flavours are intense.  Every Italian would have all these ingredients at hand at all times. Garlic, Chilli, Olive Oil, Anchovies, Lemon, Parsley, Parmesan Cheese, Bread.  Don't worry about the addition of anchovies.  You don't actually taste them as they just disintegrate into the olive oil and leave a beautiful saltiness that makes this dish come to life.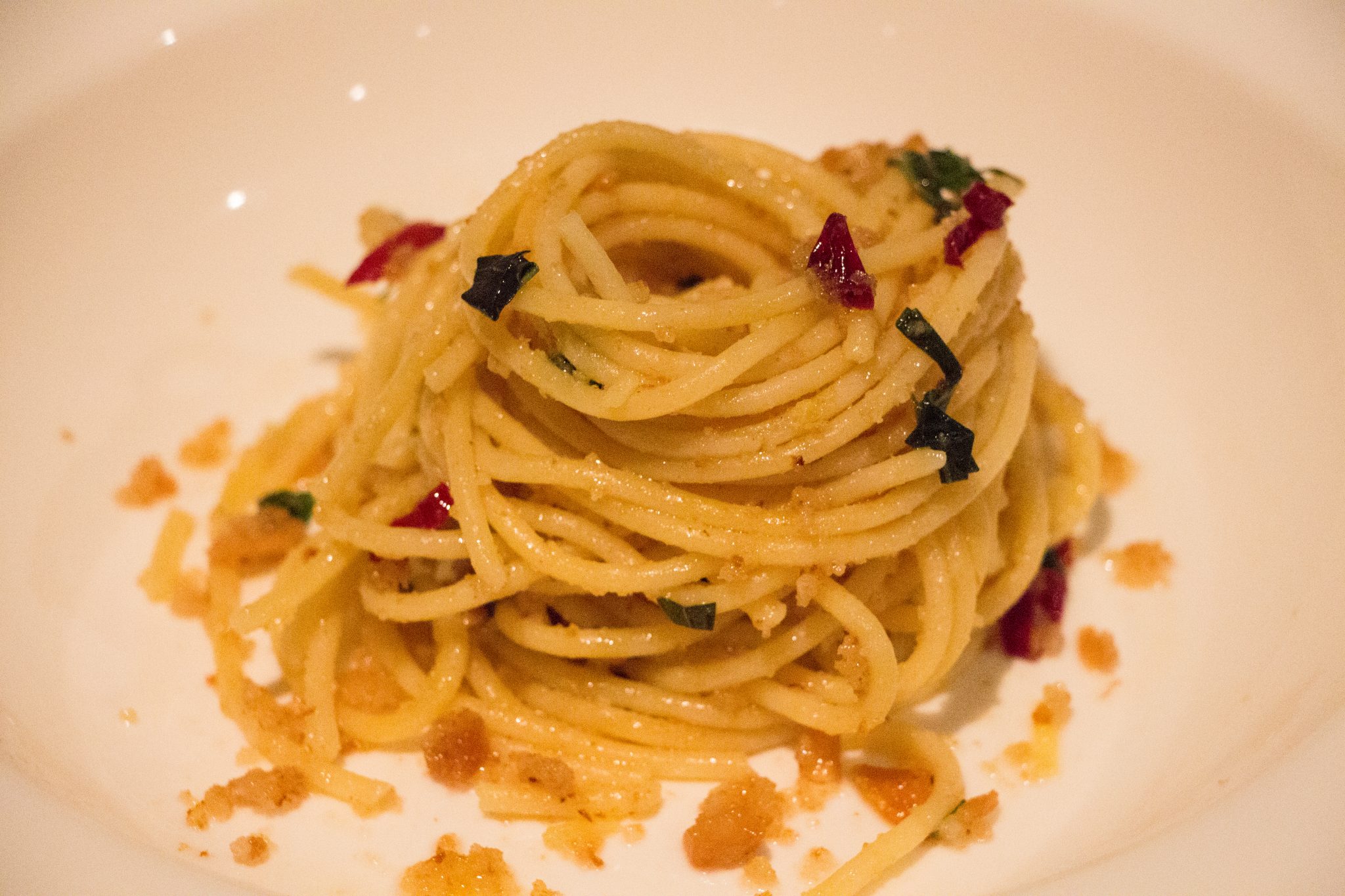 Pangrattato is 'poor mans parmesan' – a way of using up stale bread to resemble the addition of a grating of parmesan cheese.  It adds a beautiful texture and complexity to  a simple dish.  Use it as a topping for whatever pasta you like to make. I add some garlic into mine to give it more flavour, and I like to add some real parmesan at the end as well.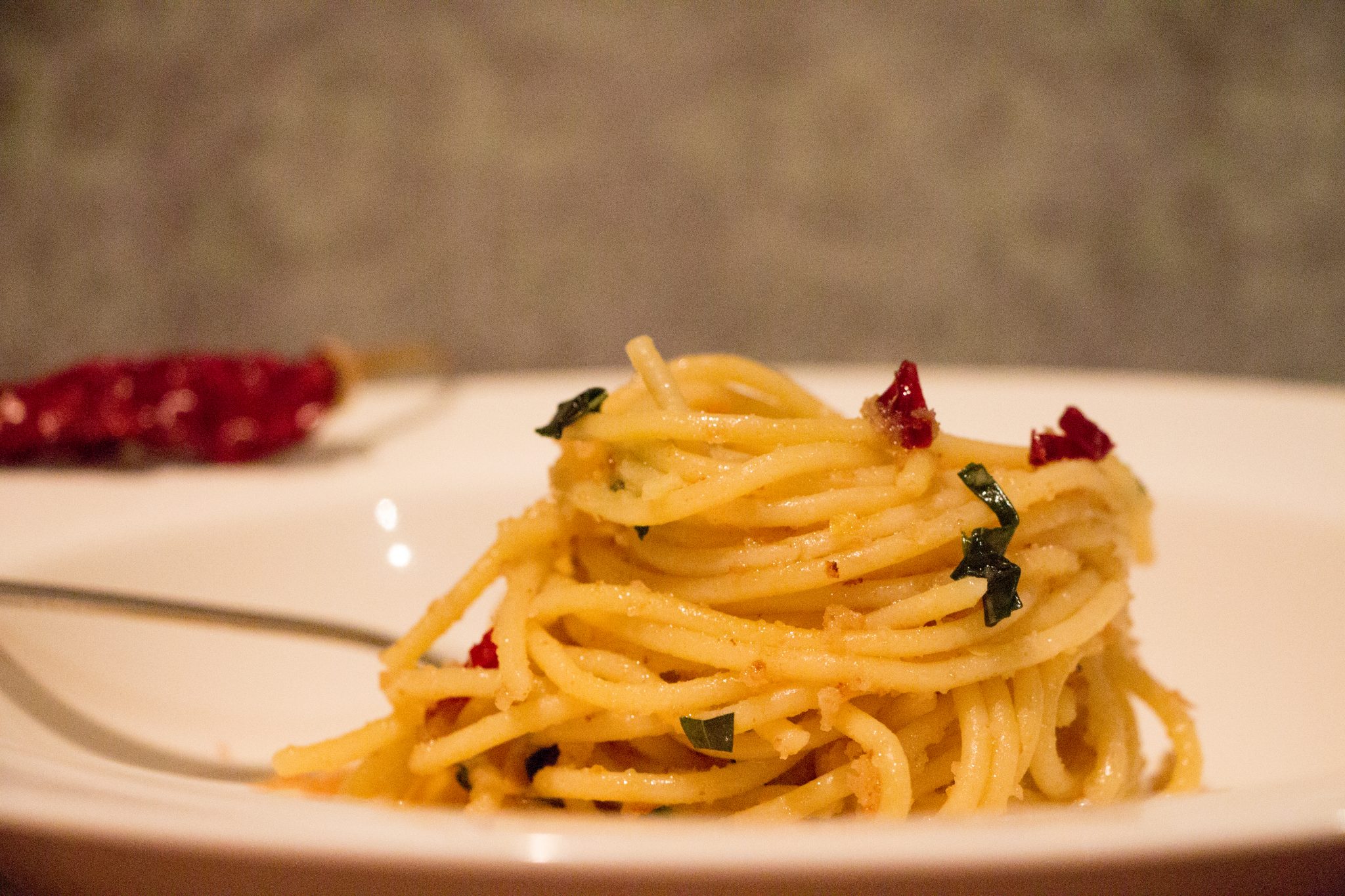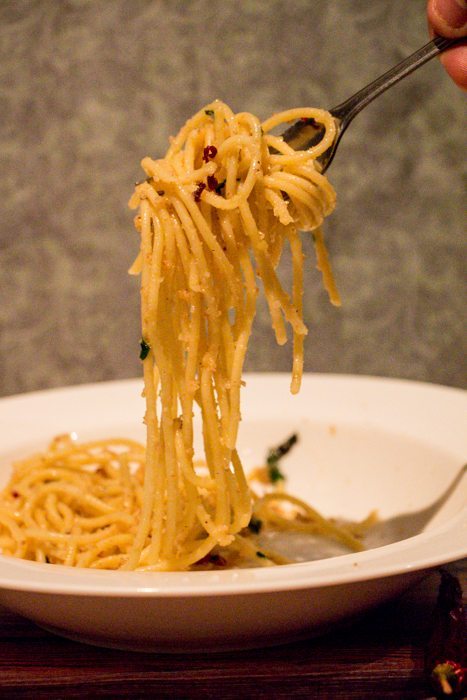 You will be amazed how such humble ingredients can turn into such a power packed meal. It will become one of your family favourites. It is mine.
Spaghetti Olio, Aglio,Pepperoncino e Pangrattato
Author:
Prep time:
Cook time:
Total time:
An Italian classic using pantry staples – garlic, chilli, lemon, anchovies
Ingredients
5 slices day old sourdough/other crusty bread
1 packet dried spaghetti
Salt
3/4 cup olive oil
3 anchovies
5 (yes 5) garlic cloves, chopped finely
1 fresh chilli, chopped finely
2 tblspns grated lemon rind
1/2 bunch fresh parsley, chopped
Parmesan cheese, grated, for serving (optional)
Instructions
frypan on a medium – high heat. Add breadcrumbs and stir until golden, about 5 minutes. Set aside.
Get a large pot of water onto a high heat and bring to the boil. Add a handful of salt. Add the pasta, stir, then cook until al dente (just cooked). Drain.
Meanwhile, in a large frypan, add the oil, anchovies, chilli and garlic and cook of a medium heat, stirring so that the anchovies dissolve, until garlic is starting to colour (careful do not let burn).
Immediately add the drained cooked pasta, lemon rind, toasted breadcrumbs and parsley. Season with salt and pepper and toss in the pan for 30 seconds to coat the pasta in the sauce.
Remove from heat and serve immediately topped with grated Parmesan (optional) .
Note: if you like it hot, add more chilli.