I love this salad. I call it my "clean out the veggie drawer" salad. The ingredients below are a suggestion, they work. But you can ad lib by using whatever you have to hand.  I get great satisfaction out of making a meal out of ingredients that were looking like they were ready for the bin. Roasting vegetables gives them a new lease on life and can turn the average into something simply stunning.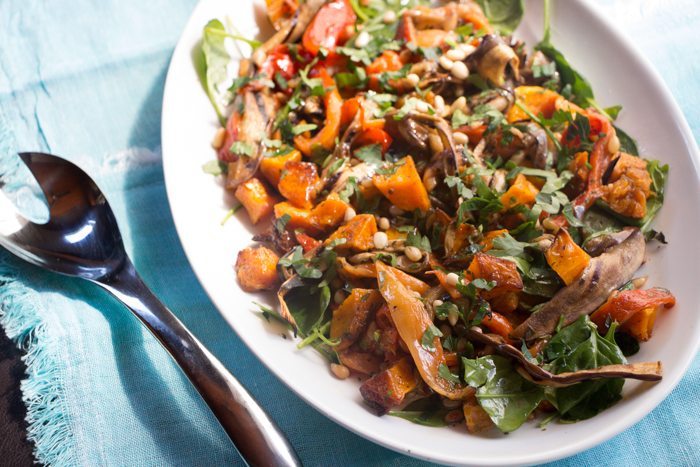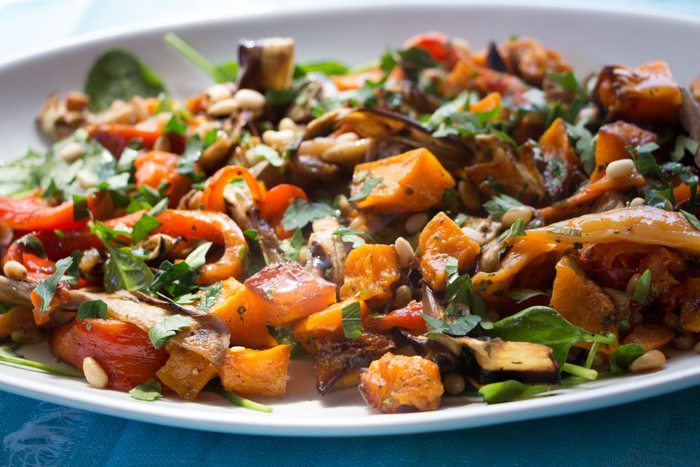 Roasted Vegetable Salad
Author:
Prep time:
Cook time:
Total time:
An earthy salad that is a perfect side to roast or barbecued meat.
Ingredients
300gm peeled and diced butternut pumpkin
1 tblspn ground cumin seed
Salt
Olive oil
2 red capsicum
1 eggplant
1/2 cup pinenuts
200gm baby spinach leaves
1/2 bunch fresh parsley, chopped
Dressing:
1/4 cup olive oil
2 tblspns white wine vinegar
1/4 tspn Dijon mustard
Salt
Ground black pepper
Instructions
Preheat oven to 180 degrees celcius (160 fan forced).
Line an oven tray with baking paper. Place pumpkin on the tray and sprinkle with cumin. Drizzle with olive oil and a couple of pinches of salt. Bake in the oven for 30 minutes or until cooked and slightly crisp on the edges. Remove and let cool slightly.
Meanwhile, place capsicums on your gas flame and turn with tongs every now and then until black and charred. Alternatively, bake in the oven with the pumpkin.
Remove and place in a bowl. Cover with clingwrap and allow to sit. This helps steam the capsicum and the skins will be easier to remove.
Meanwhile, cut the eggplant into 3mm slices. Heat a grill pan and brush with a little oil. Cook eggplant slices in batches until cooked and charred on both sides. Cut into strips. Set aside.
Remove clingwrap from capsicum and rub the skins off with our fingers. Remove and discard stem, seeds and membranes. Cut into strips and set aside.
Heat a frypan to moderate heat. Add pinenuts and toast for 2 minutes, turning frequently, until starting to colour. Remove from heat.
Make dressing:
Place all ingredients in a jar with a lid. Close the lid and shake to emulsify. Taste and adjust seasoning if necessary. Alternatively mix in a small bowl. Set aside.
Place pumpkin, capsicum and eggplant in a bowl. Add dressing and mix gently.
Place spinach leaves on a flat plate. Top with dressed vegetables, pinenuts and chopped parsley.
Serve.