This is the most succulent ragu ever. Oxtail is such an amazing cut of meat to cook with. Cooked long and slow it becomes so tender and melt in your mouth you will be begging for more. I promise.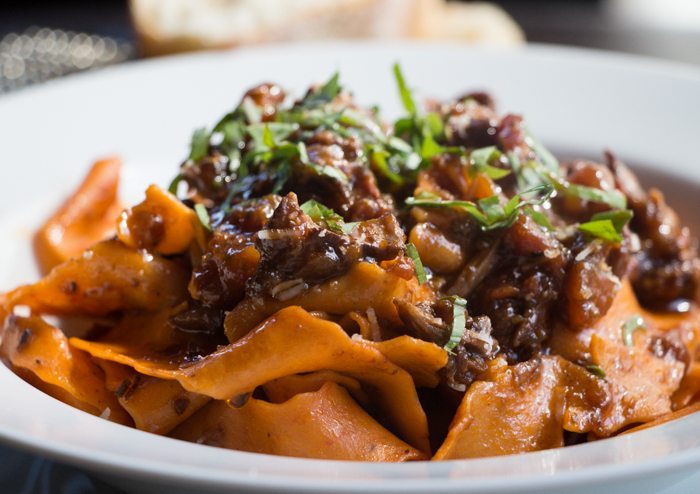 This dish requires time. The oxtail is a secondary cut of meat, meaning it needs long slow cooking to break down and become delicious. But most of that time it just does 'its own thing' , cooking away on the stove while you can get onto doing other things.  The time spent on this meal is so worth it. Sticky, gelatinous, rich, tender, unctuous – these are the words that come to mind to describe it.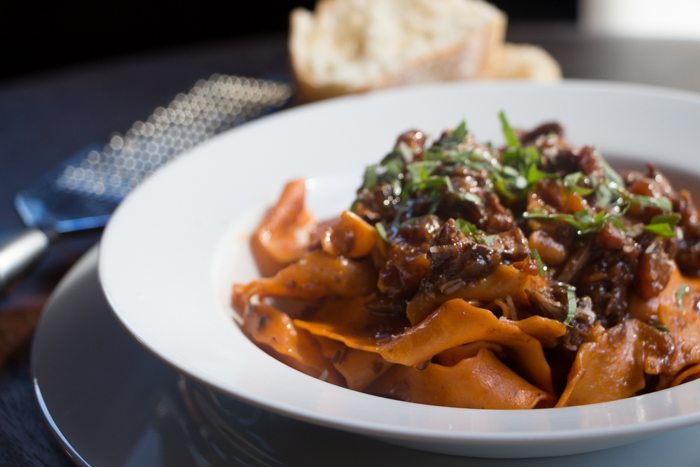 I like to serve this with my roasted capsicum pappardelle. The colours are amazing and the slight flavour from the roasted capsicum impart a richness that marries so well with the tender, winey meat. Of course, you could just make the ragu and serve with store bought pappardelle, or plain fresh pasta you make yourself. it will still be amazing in every way.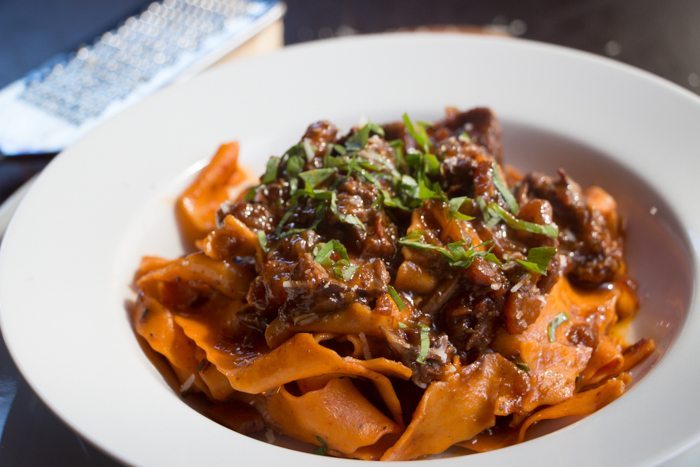 This speaks of cold nights and a roaring fire, comfort food when our bellies need to be overfilled and rubbed with glee. This is not restaurant food, that's why it's so damn good. It's home style, family style, rib sticking goodness that begs to be mopped up with a chunky piece of bread. Eat and enjoy.
You ill need to follow my recipe for ROASTED CAPSICUM PASTA DOUGH to make the pasta.
Red Wine Oxtail Ragu with Roasted Capsicum Pappardelle
Author:
Prep time:
Cook time:
Total time:
Melt in your mouth slow cooked oxtail in a red wine sauce served with roasted capsicum pappardelle makes for a very special family dinner.
Ingredients
Olive oil
I onion, finely diced
2 celery sticks, diced
1 carrot, peeled and diced
2 garlic cloves, finely diced
2 whole oxtail, cut into 5 cm lengths (about 2kg)
Salt
Cracked black pepper
2 tblspns dried oregano
375ml (half a bottle) red wine
1 litre beef stock
400 g can diced Roma tomatoes
2 bay leaves
1 quantity roasted capsicum pasta dough
Instructions
In a large heavy based pot add the olive oil, onion, celery and carrot. Sauté over medium – low heat until soft and onions are translucent. Add garlic and cook for another minute.
Add oxtail in batches, browning all over and removing before adding the next batch.
Return all oxtail back to the pan and season with salt and pepper.
Add oregano.
Stir everything together, then add the wine. Allow to bubble away for a minute.
Add the stock and bring to a boil.
Add tomatoes and bay leaves. The meat should be fully submerged. If it is not, top up with a little more beef stock.
Bring to the boil, then cover, reduce heat to very low and cook for 3 hours.
Remove the lid and cook for another hour.
Turn up the heat and allow the sauce to reduce so it is just thick enough to coat the pasta.
Serve with the roasted capsicum pappardelle ensuring everyone gets plenty of that succulent meat.
Roasted Capsicum Pappardelle
Follow the recipe for Roasted Capsicum Pasta Dough
Note: This dough can be a little sticky so dust with flour as you roll.
Roll your dough to the 5th notch on your pasta machine. Lay in sheets on a lightly floured surface.
Using the fluted edge of a pastry wheel, cut long strips about 1.5 cm wide. Set aside on a floured tray so they don't stick together.
Bring a pot of water to the boil. Add a handful of salt.
Add the pappardelle and cook for 2- 3 minutes,or until just cooked.
Drain in a colander and tip back into the empty pot it was cooked in. Stir through some of the oxtail ragu sauce to prevent it from sticking.
Serve with the ragu on top.