Closely resembling the last dish I cooked on Masterchef Australia, this dish is a real favourite.  The sweetness of the roasted pumpkin marries beautifully with the succulent prawns and the moreish sage butter sauce. This is not an every day dish, it takes a little time to make, but it's worth it.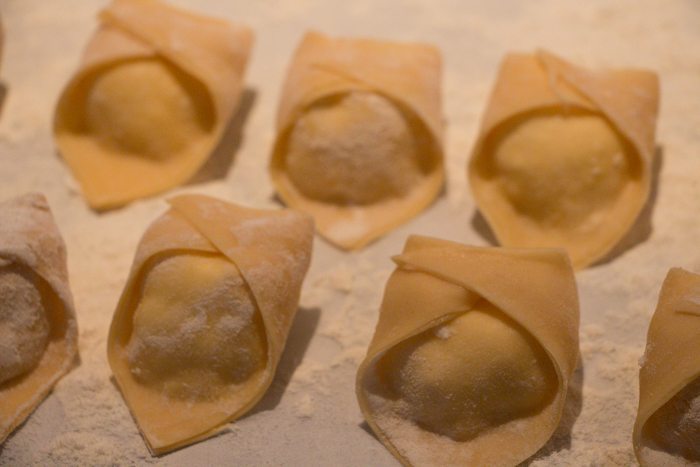 These are named tortelloni as they are larger than the more commonly known tortellini. You only need 3 – 5 of them on a plate per serve.
Like most Italian cooking, a few ingredients paired together to make an incredibly complex meal. The delicacy of the tortelloni makes this a truly memorable meal. Set some time aside and make this for someone you love.
You will need to follow my BASIC PASTA DOUGH RECIPE to make the pasta dough.
Pumpkin Tortelloni with Prawn and Sage Butter Sauce
Author:
Prep time:
Cook time:
Total time:
Delicate fresh tortelloni with a pumpkin filling served with succulent prawns and a sage buttter sauce and toasted pine nuts.
Ingredients
300gm plain 00 flour
3 eggs
350 g butternut pumpkin
Olive oil
60 gm firm, dry ricotta
1/4 cup grated Parmesan cheese
1/4 tsp freshly grated nutmeg
1/4 tsp salt
300g raw large prawns
2 tbsp pinenuts
200g unsalted butter
10 sage leaves
Instructions
Make the pasta dough as per my basic pasta dough recipe. Allow to rest for 30 minutes.
Meanwhile, get on with the filling.
Preheat oven to 180 degrees celcius.
Peel the pumpkin and cut into large cubes. Place on a lined oven tray and drizzle with a little olive oil. Place in the oven and bake for 30 minutes, or until you can pierce easily with a knife.
Remove from the oven and mash or pulse in a food processor until smooth. Allow to cool completely.
Mash the ricotta so that it is nice and smooth, then add to the pumpkin mix.
Add the parmesan, nutmeg and salt. Taste and adjust the seasoning if necessary.
Set aside while you roll the pasta.
Roll out the pasta dough to the 2nd last setting. Read my basic pasta dough recipe to fully explain this if you've never done it before.
Lay the sheets of pasta on a bench lightly dusted in flour.
Cut 8cm squares using a pastry wheel or a knife.
Place a teaspoon of pumpkin filling into the centre of the square. Brush the edges with a little water, then fold the square in half to form a triangle. Use your fingers to press around the filling to ensure all air is expelled.
Now take the two corners furthest from each other, brush one with a little water, then bring in to the middle and stick together to make a tortelloni shape. It will look like a little priest's hat.
Lay on a tray dusted with flour and continue until all the tortelloni are made.
Meanwhile, heat a frypan to med-high heat. Add the pinenuts and toss around until they just start to go golden brown. Remove immediately from heat and set aside.
Add a little olive oil to the frypan, about a tablespoon, and add the prawns. Cook 2 minutes per side, or until just cooked. Set aside.
Bring a pot of water to the boil.
Add a handful of salt to the pot and then drop in the tortelloni. Use a spoon to turn them in the water every now and then, and cook until the pasta is cooked through. This will take about 4 minutes.
While the tortelloni are cooking, add the butter and sage leaves to a small saucepan and heat on medium. Cook until the butter has melted and is foamy. Remove from heat. Do not over cook or the butter will burn.
Quickly lift the tortelloni out of the water with a slotted spoon and place straight into the pan with the sage butter. Toss around. Add the prawns, toss again and allow to heat through for a few seconds. Throw in the pinenuts.
Arrange on a plate and serve with any remaining sauce drizzled over