My favourite sour cream pastry, which actually belongs to Maggie Beer, is a cinch to make.  It is so versatile it can be used for both sweet and savoury tarts.  The only thing you need to remember is to keep the ingredients cold and work it as little as possible.  Uncooked pastry hates heat, so avoid making this in a hot environment, the butter in the pastry will melt making it difficult to handle and resulting in a toug crust once baked.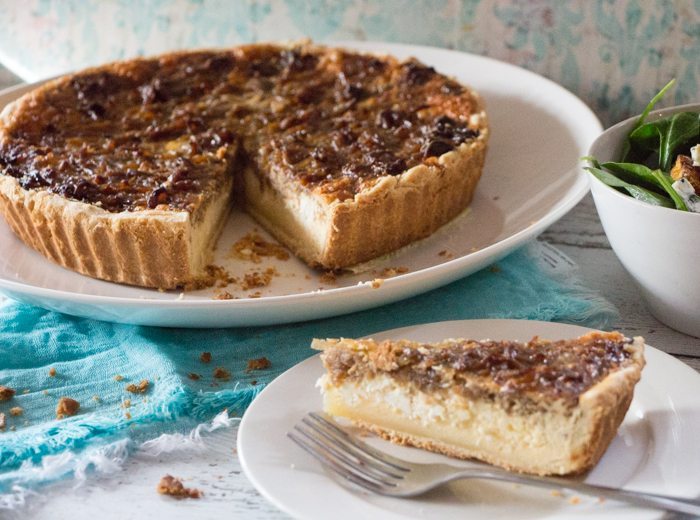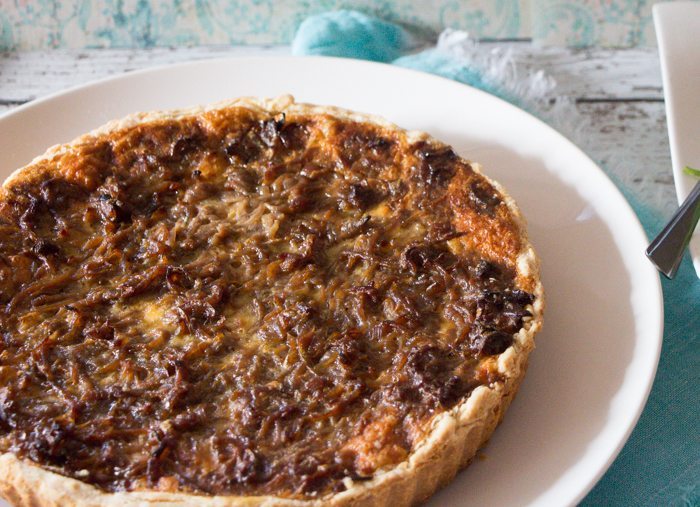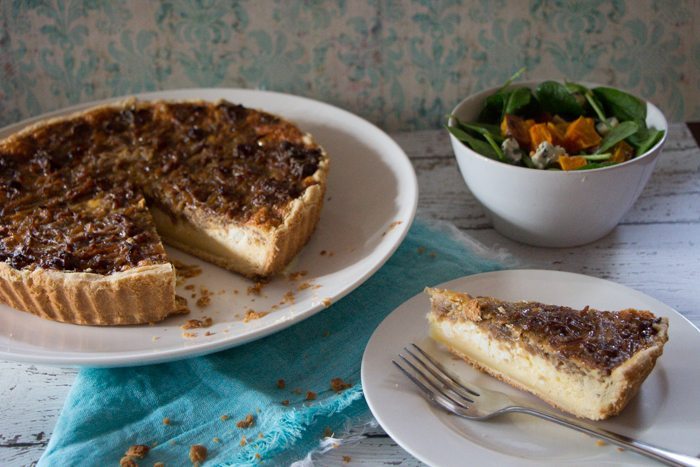 I love caramelised onions. Make a batch and keep in a jar in the fridge to add to your steak, a sandwich, or just to eat with bread and cheese. You could cheat and use a ready made jar, but it's so easy to make you should give it a go
Caramelised Onion and Feta Tart
Author:
Prep time:
Cook time:
Total time:
Beautiful Sour Cream Pastry encasing a moreish filling of caramelised onions and feta.
Ingredients
Pastry:
250 gm plain flour
200gm cold butter, diced
125ml sour cream
Filling:
7 brown onions, peeled and finely sliced
5 tblspns balsamic vinegar
6 tblspns brown sugar
1 cup grated cheddar cheese
200gm firm feta, crumbled
10 eggs
1/2 cup cream
1/2 tspn freshly ground black pepper
3/4 tspn salt
Instructions
Makes a 28cm round tart.
To make the pastry:
Put the flour and butter in the bowl of a food processor and pulse until the mixture resembles fine breadcrumbs.
Add the sour cream and pulse just until the mixture comes together.
Remove and press into a ball with your hands. Do not over work the dough.
Wrap in cling wrap and leave to rest in the fridge for 30 minutes.
Meanwhile make the onions.
Place the onions, balsamic vinegar and brown sugar in a saucepan.
Place on medium – high heat and cook, stirring often, until onions begin to brown.
Lower the heat and continue cooking until onions are dark brown. Stir every now and then to prevent the onions burning.
Remove from heat and allow to cool.
The onions can be stored in an airtight container in the fridge for 2 weeks.
Preheat oven to 180 degrees celcius
If using a non stick tart tin, there is to need to line it. If your tin is not non stick , line the base with baking paper.
Place the tart tin on a large flat baking tray. This makes it easy to transport from the bench to the oven and will catch any liquid which may escape.
Take the pastry out of the fridge and roll it between two sheets of baking paper until its around 2 – 3mm thick.
Lift the pastry by rolling it over your rolling pin, and lay it into your tart tin, allowing a little overhang in case of shrinkage. Gently press the pastry into the sides.
Sprinkle the cheddar and feta cheeses into the base of the tart.
Top evenly with cooled caramelised onions.
In a bowl, mix together the eggs, cream, salt and pepper.
Pour the egg mixture into the tart case and place in the oven.
Cook the tart for 55 minutes, or until the tart filling is set and pastry is golden.
Remove from the oven and allow to cool for 20 minutes.
Use a knife to tidy any overhanging pastry, remove from the tin and serve with a nice green salad. This tart is equally delicious hot or cold.