This almond cake is beautiful and light. The addition of the poached pears changes  this from a simple cake to something very special. I love poached pears. Use Beurre Bosch if you can find them, they are great for poaching as they retain their shape well. Avoid very ripe fruit. Make sure your pears are firm so that they don't become mushy after poaching.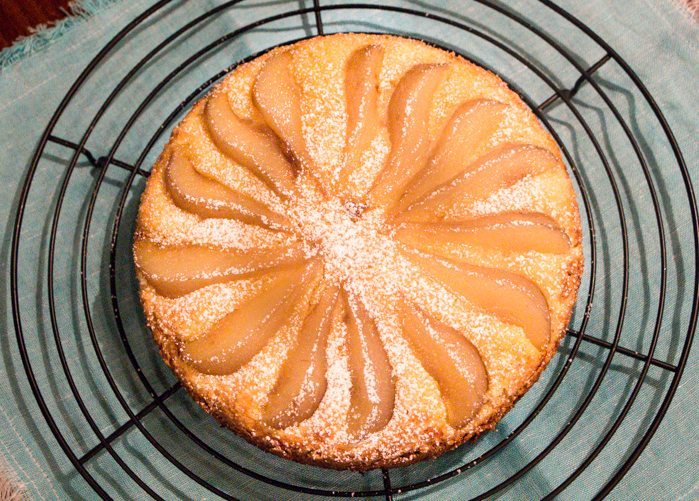 Serve this cake with some vanilla custard or a dollop of cream.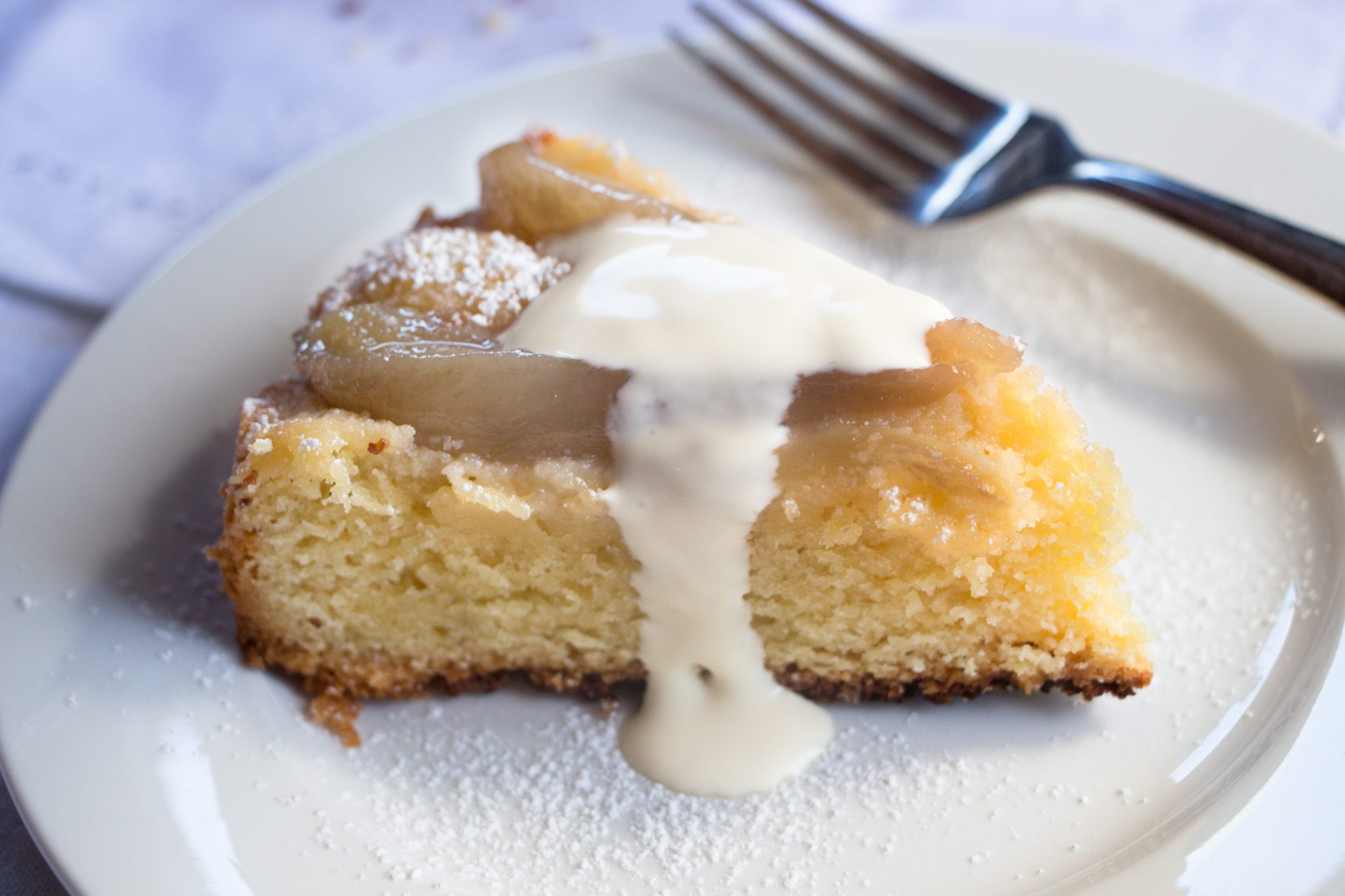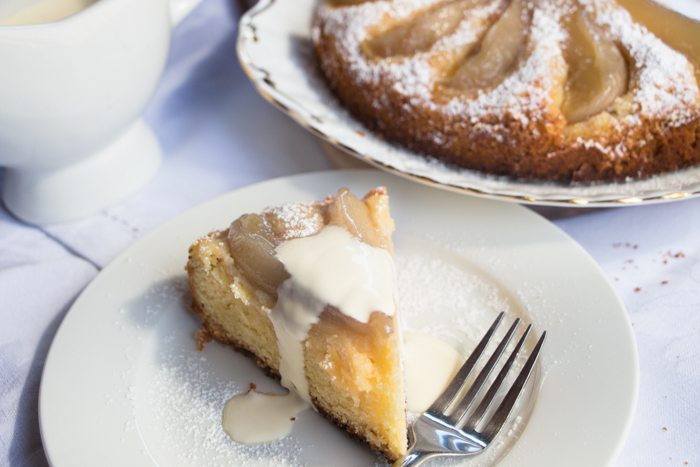 Almond Cake with Poached Pears
Author:
Prep time:
Cook time:
Total time:
Perfect for afternoon tea, my almond cake with poached pears is absolutely delicious.
Ingredients
4 firm pears, I prefer Beurre Bosc
5 cups water
1 cup caster sugar
1 cinnamon stick
1 star anise
For the cake:
150gm unsalted butter, chopped, at room temperature
150gm caster sugar
3 eggs
1 tspn vanilla extract
150 gm almond meal
150gm plain flour
1 1/2 tspn baking powder
2 tblspns Demerara sugar
Instructions
Start with poaching the pears.
Put the water and sugar into a medium sized saucepan over a moderate heat and stir until the sugar is dissolved. Turn up the heat and simmer for 5 minutes.
Meanwhile, peel the pears, leaving the stems intact.
Add the pears, cinnamon stick and the star anise to the poaching liquid, turn the heat down accordingly so the liquid is on a low simmer ( there should be no bubbles forming on the surface).
Cover the pears with a cartouche ( a circle of baking paper – it keeps the pears submerged) and simmer for 15 – 20 minutes. This will vary depending on how ripe your pears were to begin with. They're ready when you can pierce through them easily with a knife.
Remove from the heat and allow to cool in the poaching liquid.
To make the cake :
Preheat oven to 180 degrees Celsius (160 degrees fan forced)
Grease and line base of a 20cm round springform tin
Put the butter and sugar in a bowl of an electric mixer and beat for 2 minutes or until creamy.
With the mixer running, add eggs, 1 at a time, ensuring each is fully incorporated.
Turn the mixer off, add the almond meal, plain flour and baking powder and fold through with a spatula.
Spread mixture into the springform tin.
Cut cooled pears into slices, reserving the poaching liquid, and place pears decoratively over the top of the cake batter.
Sprinkle with the Demerara sugar and place in the oven.
Bake for 40 minutes, or until the cake is cooked through (test by piercing the cake with a skewer).
Allow to cool in the tin for 5 minutes, then remove and place on a wire rack. Brush with poaching liquid and either eat warm, or allow to cool completely before dusting with icing sugar and serve with a dollop of cream.
Variations
Use whatever fruit is your favourite. Poached pears, apricots, quince or fresh figs are all great substitutes.