This is one of those recipes that requires long cooking time with minimal effort. Lamb shoulder is a secondary cut and needs long slow cooking.  It has more flavour than the leg, and once given the time it needs in the oven you will be rewarded with the most tender, sticky, melt in your mouth roast you have ever tasted.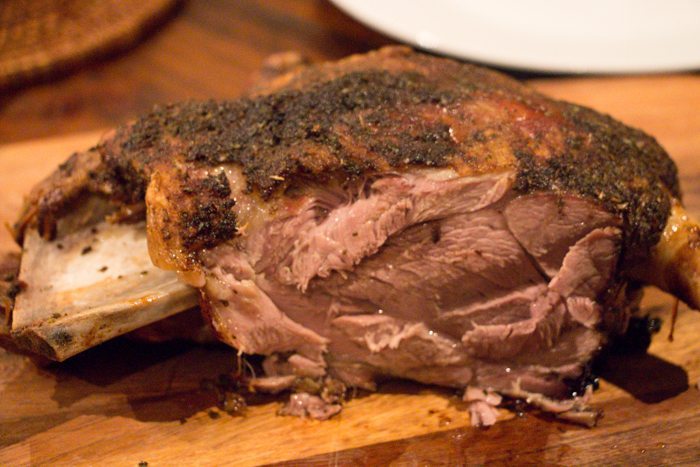 What I love about this dish is that I can put it on to cook in the morning, take the kids to school and get on with my day. The house is filled with that heady smell of spices and meat, and by the time we sit down to eat it for dinner the whole family is salivating. All you need to accompany it is your favourite roast vegetables, or a salad. Shred the meat and use it to fill pita, or fresh bread rolls.
My favourite roast lamb. I am sure it will soon become one of yours.
10 hour Melt in Your Mouth Roast Lamb Shoulder
Author:
Prep time:
Cook time:
Total time:
If you like to eat succulent juicy meat that falls from the bone, this is the recipe for you.
Ingredients
1 tblspn ground cumin seed
1 tblspn dried oregano
1 tblspn salt
1 tspn smoked paprika
1 tspn dried parsley
1/2 tspn ground black pepper
1 clove garlic, very finely chopped
2kg shoulder of lamb
Olive oil
Instructions
Mix all the spices and garlic together in a small bowl.
Cut fine shallow slashes over the fat side of the shoulder.
Drizzle the lamb all over with olive oil.
Rub the spice mix all over both sides of the lamb.
Cover and leave to marinade overnight, or at least 2 hours.
Preheat oven to 110 degrees Celsius.
Put an oven rack into a deep roasting pan. Pour in 1/2 cup of water. Place lamb on the rack and place in the oven.
Roast for up to 10 hours, basting with its juices every now and then.
Serve
Note : to reduce the cooking time a little, increase the temperature by 10 degrees. Don't increase it more than that as the reason why this lamb is so succulent is the long slow cooking process.
Devour and enjoy.