It's true that certain foods make us think about special times.  With Christmas just around the corner, my mind has been drifting to all the ingredients that symbolize Christmastime.
Luscious ripe cherries, sweet mangoes, jewel-like ruby red pomegranates appear in the fruit aisle.  The promise of a perfectly cooked turkey or a beautifully glazed ham, or fat juicy prawns on the barbecue makes me smile.
But what makes Christmas so special to me is the beautiful smells that waft out of the kitchen that takes me back to my childhood.  The heady smell of ginger and cinnamon lingering through the air reminds me of all the gingerbread made into wonderful creations over the years.  That sweet boozy smell of dried fruit, macerating in brandy, waiting to be turned into this year's special fruit cake.
I love Christmas baking, and more than any other time of the year, this is when I become nostalgic with my cooking.  I want to keep up the traditions of Christmas baking from my childhood, and one of my all time favourites are Italian Biscotti.
Growing up, there was always a plate of Biscotti out for guests to share every house we went to visit.   Each family made something slightly different, but generally they were the same. Hard, dry and perfect for dunking into the little shot of espresso that accompanied them.  Biscotti are perfect for entertaining as a batch literally lasts for months, so in typical Italian fashion, nothing ever went to waste.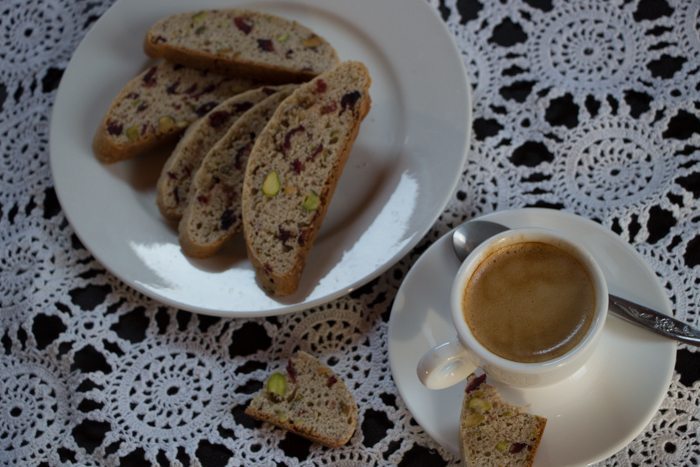 I've played with different Biscotti recipes over the years, as I was never a fan of the hard, bland ones I remember from my childhood (I'm sure some of them were a couple of years old).  This is the recipe I have been making for years now, and there's nothing bland about them.  Studded with green pistachios and red cranberries and the addition of cinnamon and nutmeg make them look and taste just like Christmas.  Best of all, a batch can keep in your biscuit jar for ages and you'll never be without a home-made treat when unexpected visitors drop in for some Christmas cheer.
So stop worrying about all the stress and chaos that Christmas can sometimes bring, put on a Bing Crosby CD and start baking.  It's guaranteed to get you in the spirit!
Click here for my recipe for Pistachio and Cranberry Biscotti