I really look forward to Mother's Day mornings. Over the years the kids always find a way to make me feel special. I really don't care much for what happens the rest of the day, but I love being able to be the last person still in PJs in bed, waiting for whatever my two boys have made me to start the day.  As they've gotten older, the food has definitely improved, and they're pretty darn good at making my coffee just the way I like it (milky and sweet – I know, not very Italian).
Its the little touches that make Mother's Day breakfast in bed special. Like the time my son decided he should have bought a "Best Mum" coffee mug so got an artline texta and wrote "Best Mum Ever" on one of my white coffee mugs! Or when I was greeted with a random selection of pink roses that had been stolen from the neighbours gardens (sorry, yes that was my kids). Actually when the flowers were given to me, my dog decided to jump on the bed and eat them! That was a funny morning.
While the kids were at primary school Mother's Day morning also came with something they made at school.  This could be anything from a decorated jar, photo-frame, wine glass (that teacher was on to something!) with the word "Mum" on it, even a decorated wooden spoon. How I miss those special gifts.  And the cards, absolutely beautiful, often with hilarious messages, misspelt words and funny drawings of me. It's true what they say, enjoy those special moments because kids grow up too fast.  The days are long but life is short.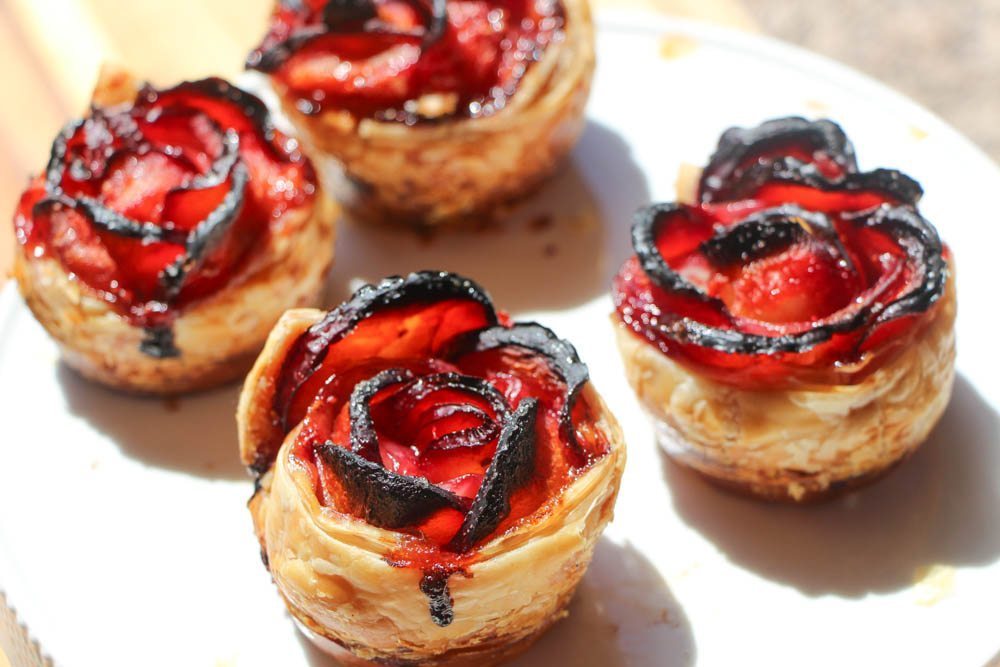 My boys still spoil me with little things, and I still get breakfast in bed – although sadly this year I won't have my big J with me as he is studying at uni some 2000km away.  This year  I have signed up to cook breakfast for some 500 people participating in the Mothers Day Morning Classic, a fundraising walking event with funds going to the Breast Cancer Foundation.  It's a great cause, and I'm thrilled to be involved, but there goes my Mother's Day morning pampering. Oh, and even better, my own Mum is staying with us during this time and guess what I've got her doing her Mother's Day morning? Yep, I've got her working right by my side (sorry Mum!).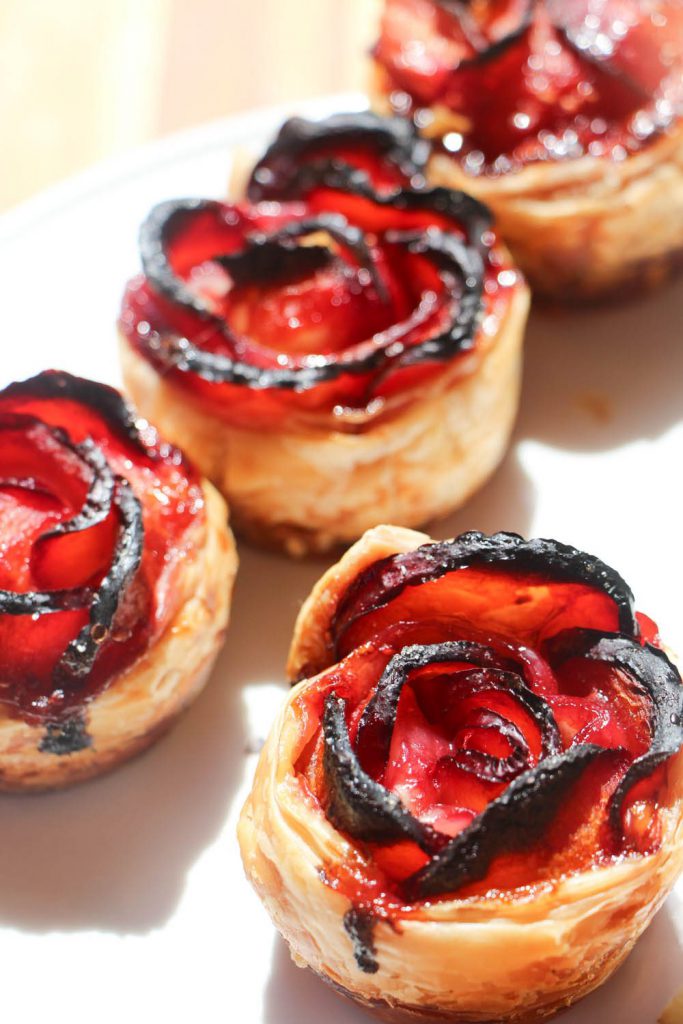 So this year, I'm breaking tradition and volunteering to help other Mums have a great morning. It will be loads of fun (and work), then I will be happy to just let my little J give me lots of cuddles (yes, I can still steal these – he's not too grown up just yet!) and I might even scrounge up the energy to make some little treats for Mum and I to share.  I'll get my son to help so I get to have fun in the kitchen with him. I think these little Black Plum Roses will be perfect. I'd rather eat something that looks like a rose than receive a bunch that will die off in a couple of days. Plus, making something for a special someone is far more personal than just popping into a shop and buying a gift.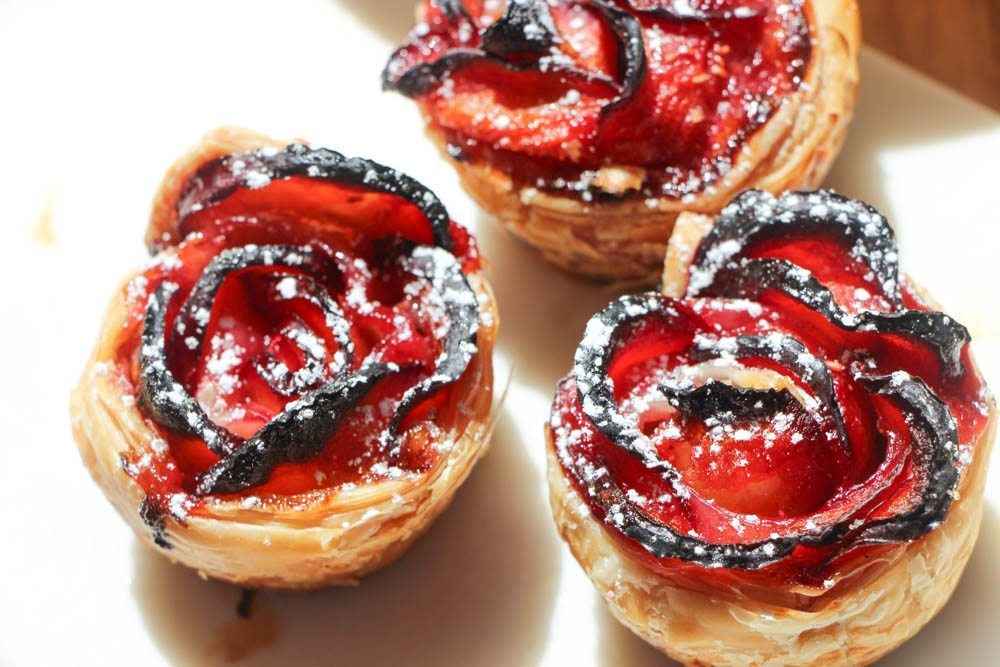 Anyone can make these, and they look so beautiful. Just like a bunch of roses! You can substitute thinly sliced apples for the plums if you like.

Mothers Day Black Plum Roses
Give Mum a bunch of these instead of flowers this year for a beautiful treat that says "thanks Mum".
Prep time:
Cook time:
Total time:
Ingredients
300g black plums
¼ cup sugar
3 - 4 sheets store bought puff pastry
½ cup fig jam (or use your favourite flavour)
icing sugar (for dusting, optional)
Method
Preheat your oven to 200 degrees Celsius. Grease a 12 cavity muffin tray.
Halve the plums from top to bottom and remove the seed. Now slice thinly longways so you have round slices. Place in a bowl and sprinkle with the sugar. Toss to combine.
Cut each sheet of pastry into 5 cm strips. Take one long piece and spread with a little jam. Now place slices of plum along the top edge, overlapping slightly, so that the arch of the top of the plum is sitting up from the top of the pastry. The bottom slice of the plums should be sitting around halfway down the length of the pastry strip.
Now fold the pastry from the bottom to the top, sealing the edges but allowing the tops of the plums to still be above the strip. It should look like you have a long strip of pastry with half of the plums sealed inside and the tops poking out in a petal effect, slightly overlapping each other.
Now starting from one end, carefully roll the strip up, holding the plum slices as you go to ensure they don't fall out. You will end up with a little scroll with plum petals at the top. Place into the prepared muffin tray and repeat with all the pastry until you have twelve plum roses.
Cook for 25 - 30 minutes, or until pastry is golden and cooked through.
Dust with icing sugar and serve.
Have a wonderful Mother's Day. Get as much cuddles as you can while you can!